10.02.2022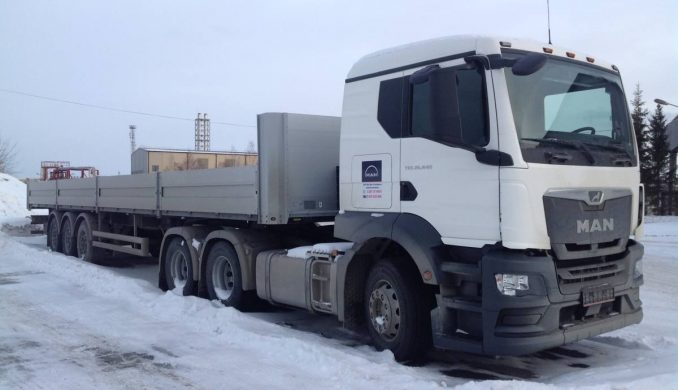 TOTAL SUPER"MAN"S
Four semi-trailer trucks by the German company «MAN» at once became part of the fleet of the Kyshtym Copper Electrolytic plant. One of them is already equipped with a semi-trailer, the rest will be equipped soon. Moreover, five more trucks with the same type of semi-trailers should arrive at KMEZ plant this winter.
These new vehicles will deliver anodes from Karabash to the plant, and will also replace the narrow-gauge railway, which is currently used for transportation of cathodes to the copper rod production division.
"We already have two MAN trucks in our possession," says the Head of the transport department, Gennady Petrov. "One has been in service since 2019, the other since 2020, and both fully met our expectations, although they are used for transportation of completely different cargoes. Both semi-trucks are equipped with special indicators for automatic oil control, a weight control system for the cargo placement in the semi-trailer. The new cars also have multi steering wheels. All these devices and systems significantly facilitate work of the drivers. When the question arose of what kind of vehicles to choose for the anodes transportation, we preferred the MAN company, which has proven itself well in our conditions."
Today, plant drivers have in service mainly domestic KAMAZ vehicles that have served for more than seven years. The truck of Ivan Sharonov and his shift crew, for example, has traveled no less than 800,000 km. Ivan is looking forward to the moment when he gets behind the wheel of a European truck.
"A new car is a new car, and that says it all. More comfortable and reliable, easy to operate. I really want to have a go." he says.
Sharonov has a huge professional background – his driving experience is 42 years, 38 of which he works at KMEZ plant. His desire to move into the cab of the German truck is quite understandable. But before the new trucks hit the road, there is still a lot of work to be done. So, for example, in trailers it is required to install and fix special holders for the anodes transportation, which have already been manufactured by Remservice LLC. For one journey, each MAN will be able to transport up to 27 tons of anodes.
For those vehicles that will work on the territory of the plant, it is required to prepare the route. For these reasons, a bridge at plant site has already been reconstructed, the turnaround areas have been expanded, and very soon the resurfacing of a narrow-gauge railway will begin. So, within the framework of the project for the Tankhouse technical modernization, KMEZ is expecting a real road and transport revolution.