Development
KMEZ is carrying out a full-scale technical modernization of the Tankhouse aimed to increase the output and improve the quality of copper cathodes.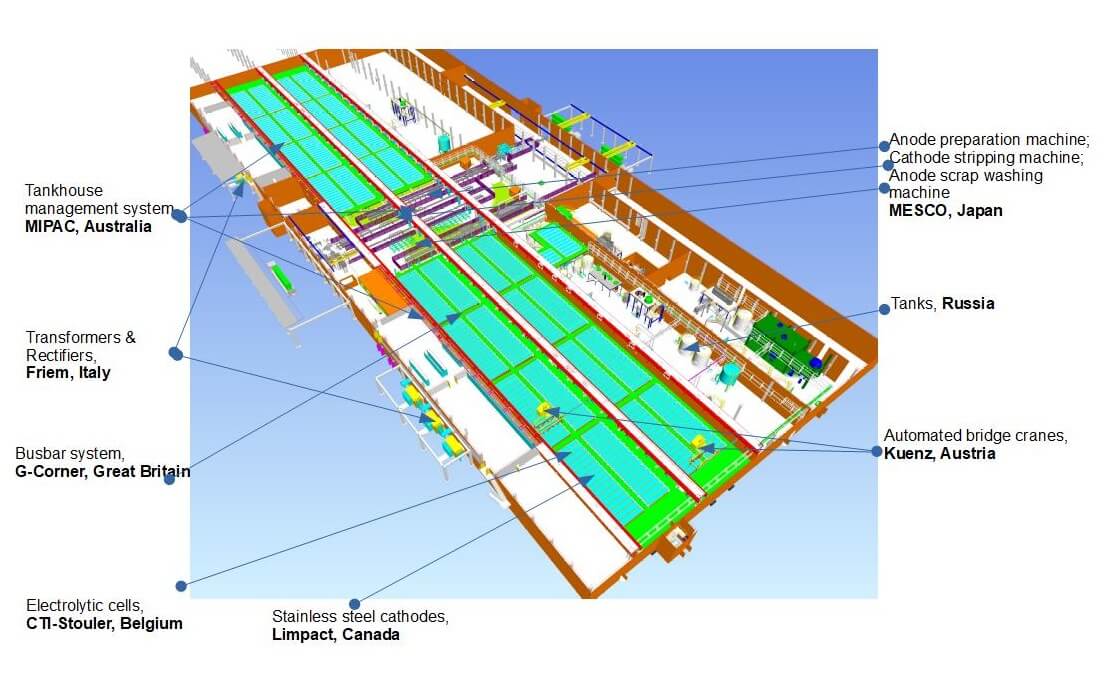 The first stage of the project includes:
installation of 16 additional new cell groups. Taking into account the capacity of the currently operating Tankhouse, the implementation of the first stage of the project will allow increasing the production of copper cathodes to 230 thousand tons per year.
technical modernization and expansion of the existing refining division.
reconstruction of transport infrastructure and internal logistics system.
modernization of the railway division with a warehouse for finished products.
Finnish company OUTOTEC carried out basic engineering for technical modernization of the Tankhouse. Polymer concrete electrolysis cells were supplied by the Belgian company STEULER, stainless steel cathode plates were supplied by Limpact International Ltd (Canada), the main equipment (Anode Preparation Machine, Cathode Stripping Machine, Anode Scrap Washing Machine, etc.) – was supplied by MESCO (Japan).
By now, at the main technological areas of the new Tankhouse, new cells, copper busbars, automatic cranes by KUENZ company and tank equipment have already been installed, foundations for technological machines have been poured. Specialists start assembling the first machine – an Anode Scrap Washing Machine. In the constructed premises of the warehouse for anodes, anode residues and cathodes storage, KUENZ robotic cranes are being commissioned.
The first stage of the Tankhouse technical modernization is planned to be implemented at the beginning of the second quarter of 2022.
Next stages of the Tankhouse technical modernization include: launch of second stage of the Tankhouse with further withdrawal from the process chain of a currently in operation (old) Tankhouse; building of a new refining division; building of a new boilerhouse; demolition of becoming useless buildings and constructions; overall site improvements according to the general layout.
Solution of the abovementioned issues along with transfer of anode production division to Karabash and commissioning of a copper electrodeposition division leads to fundamental changes in all other divisions of the plant, in internal infrastructure and logistics, in energy supply scheme, in matters of equipment repair and maintenance. In fact, in the coming years, a completely new appearance of the plant will be formed.