Foil Electrodeposition Division
The copper foil production process includes the following steps:
Raw material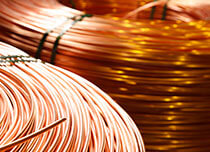 Dissolving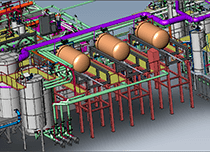 Plating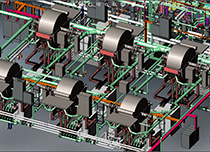 Finished product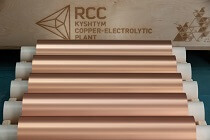 Slitting&Sheeting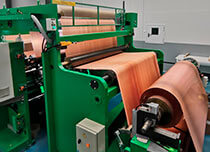 Treating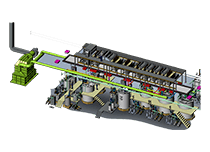 The process begins with the preparation of the electrolyte at the copper dissolution section, where the high grade copper is dissolved in the sulfuric acid electrolyte.
The raw foil is produced onto ED-Cells. Copper is electodeposited on a rotating drum-cathode immersed in the copper electrolyte solution by the action of a current. The current strength determines the ED-Cell output, while drum-cathode rotation speed determines thickness of the foil.
Physical properties of copper foil depend on the microstructure of the foil, which in turn depends on the conditions of the electrodeposition process, namely: on composition of the electrolyte, current density, introduction of organic additives and temperature.
After the raw foil of the specified parameters is obtained, it is processed on a Treater by electrodeposition coating in order to ensure the resistance of the foil to etching and oxidation, as well as to increase adhesion to various materials used in the production of printed circuit boards.
The foil processed on the Treater is then cut on a Slitter. The Slitter is a device for slitting and winding of finished copper foil onto a core, the size and material of which is determined by a customer.
After cutting, each roll is packed in a box and shipped to the customer.