20.10.2021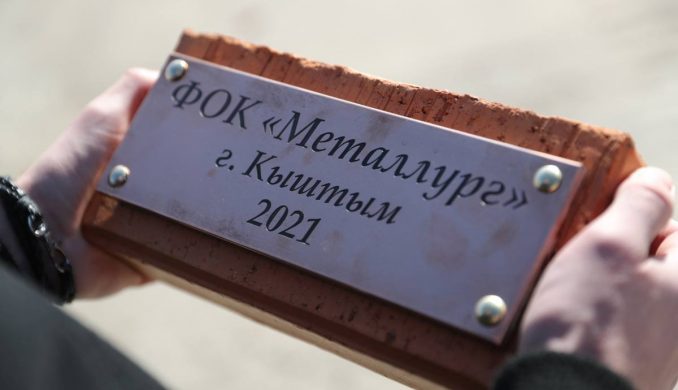 Russian copper company will build a new sports centre in Kyshtym
The grandson and son of metallurgists from the Kyshtym Copper Electrolytic Plant, a young wrestler and champion Diniyar Muginov, had an honor to lay the foundation stone of the future "Metallurg" sports centre, which the Russian Copper Company has begun to build.
Together with Diniyar, the Minister of Physical Culture and Sports of the Chelyabinsk Region Maxim Sokolov, Vice President of RCC for HR Policy and Social Responsibility Anna Shabarova, Head of the Kyshtym Town District Lyudmila Shebolaeva, General Director of JSC KMEZ Andrey Kudryavtsev gave start to works on the construction site. They poured the mortar with hand trowels into a place for a stone, equipped with a commemorative copper plaque, and then helped the boy firmly imprint it into the cement. This is how the story of the new sports facility began.
The two-storey building with an area of 2,600 square meters will accommodate two gyms for volleyball, basketball and martial arts, an area equipped with professional training simulators, and a climbing wall. RCC is investing over 340 million rubles in its construction.
The new sports and recreation centre in Nizhny Kyshtym microdistrict is planned to be opened in 2022. Minister of Physical Culture and Sports of the Chelyabinsk Region Maxim Sokolov has no doubts that RCC plans will be implemented as scheduled.
"When Russian Copper Company intends to build something, does it efficiently and on time. I am sure that the sports centre will open its doors as early as next year, that the future champions of the country and the world will grow there" – said the minister at the ceremony.
Is nine-year-old Diniyar aimed to become a champion? So far, he is simply striving for sports victories. The boy and his peers will be able to make their dreams come true at Metallurg. While the JSC KMEZ employees and veterans dream about a new sports centre has already begun to come true.
"There are a lot of people who love sports at our plant. Even our veterans do not lose their good physical shape; they achieve victories at city and regional competitions. Now metallurgists of all ages, their relatives and friends, citizens who practice an active lifestyle will have the opportunity to train in excellent conditions, because the centre is designed for 200,000 visits per year" – this prospect, of course, pleases the General Director of JSC KMEZ Andrey Kudryavtsev.
Indeed, the news about the construction of the sports and recreation centre exited fans of various sports. The whole town is eagerly awaiting its opening.
"Kyshtym has long needed such a sports centre, and on the eve of the anniversary year for the Kyshtym Copper Electrolytic Plant, this is especially important," says Anna Shabarova, Vice President of RCC for HR Policy and Social Responsibility. "We hope that the new sports centre will increase the level of sports culture and involvement of residents in the variety of sports represented in it."