25.12.2021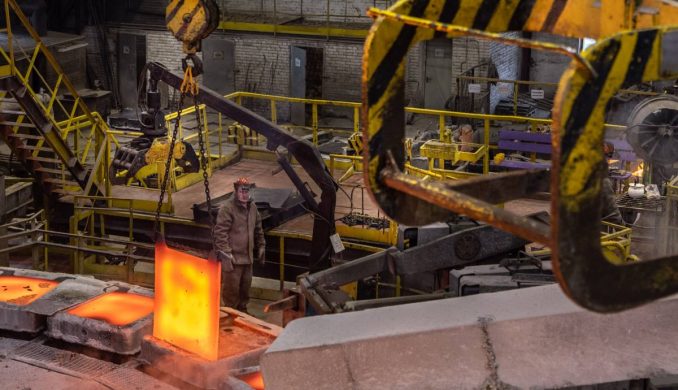 The first in history of the plant Cathode Stripping Machine installed at KMEZ
The equipment manufactured by Japanese company MESCO, which was assembled and installed at the plant as part of the Tankhouse technical modernization, fundamentally differs from its predecessors, well known to the specialists of the plant.
"Its main advantage is the high speed" – tells us Pavel Plaksin, Manager of the Tankhouse under construction. "This machine is capable of processing more than twice as many cathode plates as the existing machines: 650 versus 300 cathode plates. Moreover, already at the stage of selecting the machine, we were willing to automate all the operations that nowadays are still performed manually. Soon enough, robots – there are nine of them – will be in charge of it."
So at the stripping section there will be two robots operating at once. One of them will be removing blank cathode plates, the other one will be picking copper cathodes, besides if the copper cathode will have any inconsistencies with the standards it will be placed in a separate stack. The robots will also be sorting cathode plates as well, faulty ones will be sent for repair and priorly prepared "ideal" ones will be picked from the special rack as replacement.
The new machine is equipped with the tamping device for side frames of the cathode plates, an automatic sampling function and three presses for copper cathodes shaping. Even the process of label printing and sticking is done by robots.
This multifunctional equipment is designed to perform a whole range of operations, with only one single operator. It will not only increase efficiency and not only replace manual labor, but will also improve the quality of the products and will allow plant specialists to monitor and control it on all steps of manufacturing process. To assemble and to install such an equipment is not an easy task. We have talked about it with Mita-san, a mechanical engineer from MESCO company, who had been working at the installation site at Kyshtym plant for three weeks:
– The machine, that we delivered to KMEZ plant is made with the most modern technologies and is unique in many aspects. A lot of questions arose and were solved during its installation. We discussed them with contractors and specialists of Kyshtym plant on the spot. We worked very hard, but manage to meet the deadlines.
Mechanical installation of the Cathode Stripping machine is finished. At the beginning of 2022 it will be turn for power engineers to step in and in spring on the Japanese equipment will start commissioning process.
The first stage of the Tankhouse under construction at KMEZ is going to be put into operation in 2022. This event will be the most important gift for the 265th anniversary of the KMEZ plant, which Kyshtym will celebrate in July of the 2022.